Before anything else, I would like to disclose that I am, by no means, an audiophile. You know, this is actually my first time reviewing a product. To top it off, it's also my first time receiving the product itself from the company.
I've had several headphones before but this is too much to me. I mean, I never used ANC headphones back then, and I've always gone with the cheapest, off-brand ones.
As I have mentioned earlier, this headphone is too much to me. Despite it was released in 2019, it still gives me a lot to catch up with the latest technology being used in headphones. I've never had a decent headphone ever in my life, hence the reason why. So, let's jump right into it.
Build & Design
At first glance, the Lenovo Yoga ANC Headphones have an elegant, simple yet attractive concentric pattern. It looks so clean and I'm actually flabbergasted with its design. It has a solid build, and with this light color, it is something you wouldn't want to be dirty.
My over-ear experience
Upon wearing the over-ear headphones, I began to feel how soft the headband is. It has silicone leather and premium plastic material, which gives you the ease to rest both your ears and your head. Other than that, it feels more comfortable to wear with the adjustable band.


There's the ANC button in between the volume controls, arranged horizontally.
While it isn't big as other headphones, I started to believe that these headphones are specifically made for work. As for the controls, they're a bit difficult to locate, especially when you don't know what button you are reaching for, or even if you do.
There are a total of four buttons: the power switch and the playback button on the left while a mute switch and the volume controls on the right, which features the ANC button. The Active Noise Cancellation has two layers of noise cancellation. It has two levels before it's completely off. I was a bit skeptical about how it works at first but it does the thing.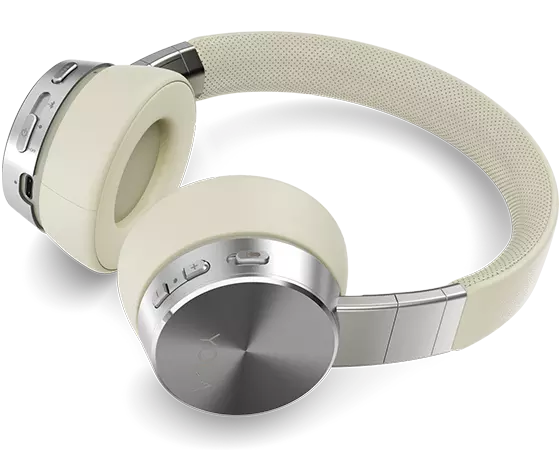 As for the sound quality, I'd say it understood the assignment. It delivers good consistency to music although I only play songs high in bass. I wouldn't go further into this because my interest in music is something you wouldn't wanna know. Moreover, it's a bit disappointing to say that the Lenovo Yoga ANC Headphones did not come with a headphone jack.
Battery Life
Battery-wise, while using these headphones, I was able to use them for a day. Thanks to the power switch, I was able to manage the battery usage, even if I use it continuously. There are countless times that I left it on idle without powering it off and it's still on.
When it comes to playing music, there was a sudden battery drain, like it decreased from 100% to 80% in just 4 hours. It happens like that sometimes.
Pricing & Availability
The Lenovo Yoga ANC Headphones retails for PHP 7,990 and can be sold online through Lenovo's official Lazada page.